Advanced Practitioner Job Search:
Tips and Advice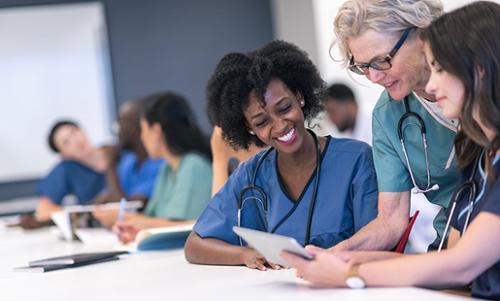 Nurse Practitioners and Physician Assistants provide critical services in America's healthcare system. While these Advanced Practitioners can work in virtually any setting in medicine, there is one workplace that stands head and shoulders above the others when it comes to AP professional opportunities.‌ If you are an AP and want to take your career to the next level, consider these reasons why you should work in Academic Medicine.
Access to Cutting Edge Equipment & Funding Resources
Working in an Academic Medical Center (AMC) allows access to cutting edge research, equipment, and funding opportunities that can enhance your clinical knowledge and skillsets taking your career to the next level.
There are More Leadership Opportunities
Academic Medicine provides AP's with increased leadership opportunities due to the expanded clinical, teaching and administrative roles not found in smaller medical practices.
Access to Top-Level Colleagues in a Variety of Specialties
Academic Medical Centers make multi-specialty collaborations easier by pooling together top-notch, cutting edge Physicians, AP's and researchers. This close proximity and collaborative team approach makes AMCs a unique working environment.
You Can Be a Teacher
Most Advanced Practitioners working in an AMC split their time between providing clinical care and teaching students. This teaching experience can be quite rewarding as you help mold and inspire future generations of AP's wanting to work in the field.
Get Involved in Research
Academic APs can participate in clinical research trials that can help change the future of medicine through the development of novel therapies and treatment approaches.
Enhanced Access to Learning Opportunities
AMCs are the epicenter of new medical techniques and research, making them a great place to keep relevant when it comes to the constantly evolving areas of medicine. Medical rounds, guest lectures, and symposiums hosted by these organizations provide great access to new learning opportunities and world-renowned experts in their field.
Help Increase Patient Access to Quality Healthcare
According to research results evaluating AP roles in Academic Medical Centers, the majority of organizations endorsed employing APs to help enhance their patient care and quality levels1.
Increase Patient Access to Healthcare – 77% of Academic Medical Centers said they employ AP's to help increase their patient's access to healthcare while boosting the number of available providers.
Improve Patient Safety and the Quality of Care They Experience – 77% also endorsed that AP's help to increase patient safety and the quality of healthcare they are provided.
Get Patients Home to Recover Quicker – Patients at AMCs also enjoy the added benefit of a reduced length of hospital stay when APs are working on staff.
Provide enhanced Continuity of Care – Through collaborations with other members of staff, APs help to enhance the continuity of care for patients as they move from one service to another.
For more information and valuable career resources please:

Create a Profile Browse Our Job Board Attend a Career Fair