Physician Recruitment
Tips & Strategies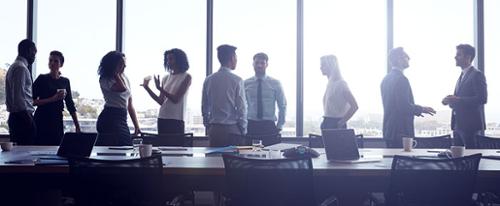 Focus on Organizational Branding For Your Healthcare Recruiting Pitch
Effective branding is one of the best ways to recruit physicians. According to The True Cost of a Bad Hire, organizations are 3 times more likely to land a great hire if they invest in their branding.
Spend the time and money to create a brand that has a positive influence. Make it something that employees and the public want to be a part of. An important component of this branding starts with knowing what the public thinks of you.
It is essential to understand what information is out there on your organization and who is being exposed to it. Glassdoor.com reports that most job searchers viewed at least 7 company reviews before deciding how they felt about a prospective company. Once your organization has established positive branding, remember to work on maintenance. Maintaining a positive brand is especially important when it pertains to your HR-public interfaces. Prospective hires report that they are positively influenced when companies respond to their inquiries and applications in a timely manner, providing them with feedback along the way.
Widen Your Recruiting Resources
One of the best ways to recruit physicians is figuring out where they are and how to effectively target them throughout their search. It is important to take advantage of what's out there in this technological age. Investigate all available resources including advertising and social media while also keeping an open mind. According to Glassdoor.com, their users report visiting over 7 job sites on average during their job hunts.
Healthcare Recruiting Tips for Attracting Millennial Hires
Emphasize your organization's employee leadership programs when recruiting millennials. Leadership development is key for keeping many Millennials satisfied and engaged in the workplace. The Deloitte Millennial Survey found that 71% of Millennials imminently leaving a company were unhappy with how their leadership skills were being developed by their company. This finding makes sense because many organizations voice an ineptitude for engaging Millennials in the workplace. According to a 2016 Gallup poll, only 4% of company leaders feel that they are effectively engaging this generation of employee in the workplace.
One of the best ways to recruit physicians and Advanced Practitioners from this generation is focusing on improving your benefits package. Placing an emphasis on benefits over pay raises shows promise with this generation. According to a Glassdoor.com survey, 90% of Millennials prefer benefit increases over increases in pay.
Invest in Organizational Diversity at the Management Level
A 2016 Gallup survey on women, found that female managers were viewed as more favorable than male managers on several fronts. Employees of female managers were more likely than those of male managers to endorse that their manager was encouraging professional development. This favorable rating was also noted in regards to elevated employee engagement levels amongst employees of female managers.
Need Help Recruiting Healthcare Jobs? Partner with PracticeMatch
In today's highly competitive medical market place, successful physician recruitment requires tools, a strategic search plan and the resources to carry it out. PracticeMatch offers sophisticated tools to help you search for, contact, track, and hire qualified candidates. Let us help you track and connect with candidates from click to close.
Contact us today for a free, no-obligation demonstration. Email information@practicematch.com to learn more.
What Our Clients Are Saying