Physician Job Search: Tips and Advice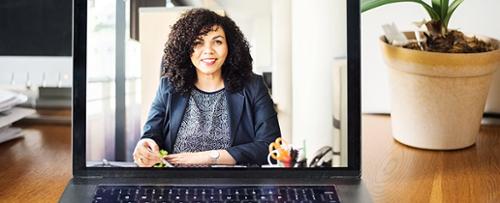 With the appearance of COVID-19 in early 2020, many states across the US have set up social distancing policies. These policies include rules like staying six feet apart and limiting the number of people in a space. For medical students beginning to apply to residency programs, this raises the question of what will happen when it's time to interview. Luckily, with the advancements in technology, your interviews should not be canceled entirely. Instead, many organizations are opting to utilize virtual interviewing.
Virtual interviews allow the interviewer(s) and interviewee to meet via a web platform. A virtual interview eliminates the issue of having too many people in an area and the need to travel. Before engaging in a virtual interview, there are a few items you need to do.
Download any necessary software
Each web platform is different. Some platforms will allow you to join automatically without downloads or creating an account, but others will require some set-up. Once you have your interview date set, find out which platform you will be using. Some downloads can require a system update, so doing it on the day of is ill-advised. You need to download and test the platform prior to the interview. Skype, Zoom, and GoToMeeting all allow you to run a test call to ensure that your connection is working.
Set up your interview space
Since you will be at your home or office for the interview, it is crucial you set-up your area before the interview. Unlike a normal video-chat with friends, you cannot just sit on your couch or walk around your home. You need to set up an area that will allow you to place your laptop on a flat surface like a desk or table. This will keep your camera steady as you interview. You should also make sure that you have space for your items like your CV and paper and pen to take notes. Also, don't forget about your background. Make sure to remove anything that may become distracting to the interviewers (i.e., a TV playing, messes, pets).
Test out your equipment
Your laptop may already have a built-in camera and microphone. If not, you need to get those items to ensure that there are no issues during the interview. Once you download the interview platform, test your mic and camera to ensure they are working correctly. If you do not already have a headset or headphones, you should think about getting some. It will make it easier for you to hear the interviewer, and it will make it easier for the interviewer to hear you.
Treat it like an in-person interview
Since you will be on camera, make sure that you treat your appearance the same that you would if you were meeting in person. Make sure that hair and facial hair are groomed and look neat. Choose a business-professional outfit like a suit, skirt-suit, or a dress with a blazer. Dressing professionally can help you stay in the interview mindset, and shows the interviewer you are serious.
Looking for more interview tips? Check out the PracticeMatch Career Resources and Physician Articles.
Hayley Woszczynski - Physician & Program Relations Manager. You can stay connected with me on LinkedIn for all of the latest PracticeMatch articles and upcoming events.
For more information and valuable career resources please:

Browse Our Job Board Create a Profile Register for a Career Fair Build Your CV