Physician Job Search: Tips and Advice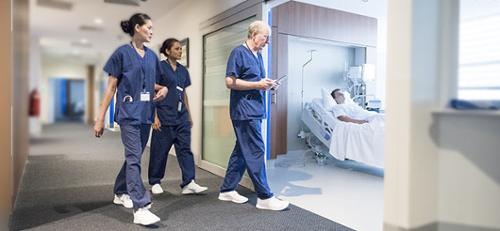 Full-time, part-time, or locums? That is the question.
After training or a current contract, the important task of finding an opportunity comes next.‌ There are many different options for physicians to think about while choosing what type of opportunity to practice. One important part of an opportunity is to take into account what type of practice you are looking to join.
Full-Time
Full- time employment allows physicians to work anywhere between an average of 40-60 hours a week with an organization. By working full time this often opens the physician to perks within their employment like bonuses, 401ks, and more. Full time employment is perfect for physicians looking gain hours of experience in a shorter time.
Pros: Full-time work will allow you to work a set schedule at an organization. It will also allow the physician to claim insurance benefits set by the organization.
Cons: Full-time work is exactly what it sounds like, a full-time job. Taking an opportunity that requires long hours of work may burn a physician out quicker.
Part-Time
Part-time employment will allow a physician to work part of their work week with an organization. The hours worked per week will range based on specialty and the organization, but the hours will be less than 40 hours. This will allow a physician to practice but cut back on hours worked. This is a great option for physicians looking to work reduced hours to spend more time outside of work.
Pros: Allows a physician who is not able or does not want to work a full work week still practice medicine. This gives a physician more time outside of work. This can also pave the way for a part-time physician to seek out full-time employment at a later time.
Cons: Lower salary with fewer hours worked. It does not allow a physician to gain the same practice hours or salary as full-time physicians.
Locum Tenens
Locum tenens or locums work will allow a physician to be a stand-in physician for an organization. This does not mean that the physician is a full-time or part-time employee, but he or she has a unique role as a fill-in for a physician ranging anywhere from a single day to months. This is great for physicians who want to travel as well as work in different settings regularly.
Pros: Locum tenens allows physicians to try out different organizations without signing a long-term contract. It also allows a physician the chance to try out different geographic areas or communities to see which is the best fit.
Cons: Locum tenens may allow you diversity on a daily basis, but that also can mean unsteady work. There is more responsibility with the physician to find their next opportunity quicker than an extended contract like in full-time or part-time.
There is not a right or wrong option when choosing which type of employment fits best for you. This can change over time and you may have looked at doing full-time work but are now considering locums, or vice versa, so do not feel that you must choose one and only one for your whole career.
For more information and valuable career resources please:

Browse Our Job Board Create a Profile Register for a Career Fair Build Your CV