Physician Job Search: Tips and Advice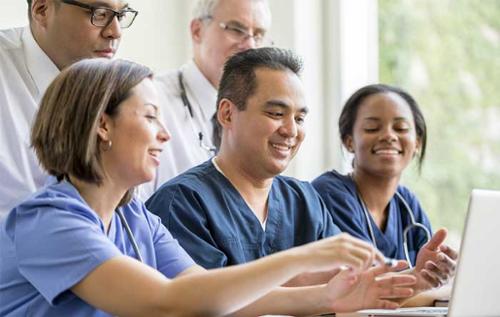 Job hunting can be a cumbersome task if not done efficiently. One item to make your search a little easier is to decide on your ideal geographic location. You may already have your preferred geographic location already in mind, or you may be completely open to anywhere.‌ If you are in the latter group, you may want to start to narrow down your preferred geographic area to at least a region to help you get an idea of what you are looking for and eventually lead you to narrow down to a specific state or states.
Why is it important to pick the right geographic location?
You will be living and working in the area. You do not want to take an opportunity in an area that you are completely unfamiliar with. Even though you may be going to that location for a job, you will still live in that community, or at least nearby. You want to make sure that you choose an area that is not going to make you miserable.
How do you choose the right location?
1. Consult with your spouse/significant other/family.
If you are not single, you should consider how the location will affect the other person(s) that will be moving with you. If your spouse has an occupation that requires them to be in a metropolitan area, looking at a rural position far from any major cities may not be the best option. Get their opinion on the area to make sure you are on the same page.
2. Keep your hobbies/outside interests in mind. 
After work you will have free time, so you want to make sure that you are in an area that will allow you to relax with your hobbies. For instance, if you are a physician who enjoys going fishing or to museums regularly, you want to find an area that will allow you to continue to do these things. If you have children who are in extracurriculars, you will want to make sure that the school or community will allow them to continue those activities.
3. Check out the community online. 
If there is an area that you are considering but are unfamiliar with, run a quick search on the area. Look at the photographs of the area, Wikipedia page, or whatever other articles come up. This will give you a better idea of if this is a community that you'd like to live in. You can also use different tools like Google Maps to look at the area and get a better picture of the community.
4. Ask questions about the area. 
If you have already applied to an opportunity and started the interview process, ask the recruiter about the area. They can typically give you a good idea of what is around the area or answer more specific questions you have. As you continue through the interview process, you may be invited to tour the campus and community, which gives you another chance to ask questions about the area.
Don't get caught in a bad location because you only considered your work life. You must remember that, outside of work, you and your spouse/family will be living in this community for the length of your contract. Living in an area that makes you feel miserable can not only affect your personal life but your professional life as well.
Looking for more job search guidance? Download the PracticePath Workbook!
For more information and valuable career resources please:

Browse Our Job Board Create a Profile Register for a Career Fair Build Your CV