Physician Job Search: Tips and Advice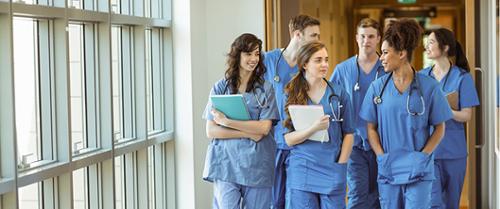 There are many decisions that medical students make throughout their training that help to shape their future practice plans. These decisions not only influence what kind of career they will have but also the shape of Physician practice in America. To help understand the plans of young Physicians, consider the results of the AAMC's Matriculating Student Questionnaire regarding their future practice plans.
Long Term Career Plans
Patient Care- An overwhelming 97% of recent Physician grads plan to make patient care their primary practice focus. While this fact is probably not that surprising due to the nature of their medical training, many also plan to have a secondary career focus that includes research.
Research- 62% of grads endorse an interest in pursuing a career that involves research endeavors. While research is frequently a mainstay for Physicians working in academic medicine, it is also a popular option for those looking for opportunities in a more limited capacity.
Teaching- A little over half of graduate's plan on imparting their knowledge of medicine to future generations of students at some point during their career.
Public Health- Working in disease prevention and control was a reported career interest for 43% of those surveyed.
Part Time Work- While full time employment is the most common scheduling option, many are planning on part time employment while working. 16% of respondents endorse this preference as a preferred schedule option, with childcare and lifestyle choices driving this decision.
Top Specialties-of-Choice
Surgical Specialties- Surgical specialty work attracts 14% of new grads with offers of challenging cases and lucrative pay. Amongst all the surgical specialties, orthopedic surgery is the most popular practice choice.
Internal Medicine- 13% of recent graduates plan to pursue work in internal medicine, with about half of those reporting an interest in specialty areas like Cardiology and Pediatric Oncology.
Top Practice States
California- "The Golden State" attracts many young Physicians with its glamour, and beautiful coastlines. More new grads plan to work in California than any other state in the nation, with 12% citing it as their future practice location of choice.
New York- This dynamic state offers something for everyone when it comes to lifestyle and practice opportunities. These qualities help to solidify its top 2 ranking amongst the most popular states for practice with young Physicians.
For more information and valuable career resources please:

Browse Our Job Board Create a Profile Register for a Career Fair Build Your CV