Physician Job Search: Tips and Advice
Who doesn't like a little extra money? Whether you are a starving Resident looking to pick up a couple of extra shifts or a seasoned Physician funding your child's college tuition, physician moonlighting jobs can be an attractive option to make some extra money.‌ Before you venture into a clinical side job it is important to evaluate the pros and cons associated with Moonlighting.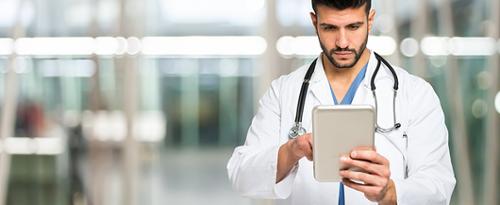 Moonlighting Pros:
Earn Extra Income
This is the most common reason professionals moonlight. According to Glassdoor.com, the average moonlighting Physician is getting around $80/hour. This rate does not represent specialty Physicians who can expect to earn even more an hour for their work.
Added Job Security
Having a second job can provide you with additional job security if things seem uncertain at your current place of employment. Moonlighting employers are frequently in need of extra help and are often open to bringing on moonlighters full time.
Employment Test Drive
Perhaps you have been thinking about leaving your current job or are interested in transitioning to a new clinical setting. If so, Moonlighting can give you the opportunity to take a new employer or clinical setting on a test drive without having to give a full time commitment.
Variety
Having another job can stimulate you in ways your current job may not be. Maybe you feel like you are seeing the same things every day or the patient load is too taxing. Perhaps you want to work with new colleagues or in a multidisciplinary clinic closer to your home. Whatever the reason, Moonlighting can provide a variety of opportunities to increase your level of professional satisfaction.
Moonlighting Cons:
Increased Liability Risks
Working in Medicine comes with inherent risks. So it's not surprising that taking on a second clinical job can put you at an increased risk for liability issues. These positions require additional medical liability insurance that is not always covered by the employer. This added expense can eat into your bottom line and if you aren't properly covered can also be legally costly. It is also important to get your current employers consent to Moonlight before embarking on any new ventures. This step can help you avoid negative ramifications from perceived conflicts of interests or scheduling issues that may arise.
Added Stress
You think you are stressed out now, try adding on a second job. New jobs can pile on added stress by increasing workloads and demands that require you learn a new organization's personnel, EMR, workflows and policies.
Less Free Time
You will be working a second job so there will be less free time at your disposal. This means that you will have less time to relax and decompress with family and friends. It is important to evaluate how important this missed time will be to you. Will you be missing your son's little league games, church functions or the ability to keep yourself healthy by exercising? Weighing these factors before making any decisions can help you make the right choice for your situation.
For more information and valuable career resources please:

Browse Our Job Board Create a Profile Register for a Career Fair Build Your CV